Here we are, poring into some awesome looking pictures of the Audi R8 Spyder. As we go looking for more details of this sexy, mean machine, we stumble upon info that tells us the German car maker has taken into consideration conservation of energy and has incorporated a newer version of the V8 that has been designed to comply with EU5 emission norms. A fresh recuperation system makes possible energy saving measures while the Spyder is coasting and braking,.
To debut as a fresh air breathing vehicle, the Spyder will also be endowed with a powerful outlook.
Delivering 430-horsepower (+10HP) with a maximum torque of 430Nm (317.2 lb-ft) arriving at 4,500 rpm and sustained through to 6,000 rpm, the car will combine both the standard six-speed manual transmission and the optional six-speed S tronic automated manual.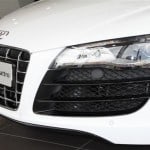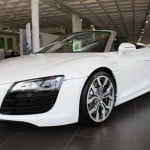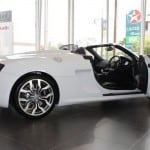 The Audi R8 Spyder is foreseen as capable of racing from0 to 62mph (100km/h) in 4.8 seconds, and attain a top speed of 186mph or 299 km/h. The car is most likely to see the first deliveries happen by January next.