As part of its drive to expand its product range, Porsche is currently known to be working on development of a new saloon/hatch vehicle. The new car, called the Panamera, is allegedly to use the 8 cylinder 4,5L mills that currently do service in the Cayenne range. Also mulled for inclusion is an Audi-sourced V10 – initially, the V10 from the Carrera GT was tipped as the range-topper, but production limitations are said to have precluded it from inclusion.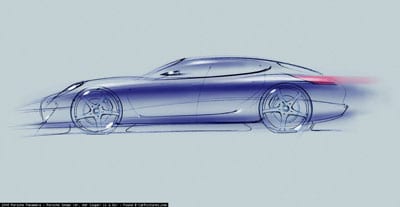 The final assembly of the vehicles will take place in Leipzig. Engines will be assembled in Stuttgart, and the car's painted body will come from the Volkswagen facility in Hanover.
The Panamera is generally considered to be the long-awaited fruit of Porsche's 989 concept from the late 1980s; some argue that it also presents itself as a suitable successor to the 2-doored 928.The vehicle has been caught testing at the Nurburgring and the original sketches are a little more sleek than the taped up model spied testing
Artist renderings of the car already distributed by Porsche show a low-slung, four-door sports car with narrow side windows and flowing lines. However spy shots of the Porsche Panamera testing at the Nurburgring show a more blunt car than the artists renderings, it looks a little like a stretched 997 Turbo
The Panamera's name is derived, like the Carrera line, from the Carrera Panamericana race.