Here are the first images of the Mercedes' sixth generation premium roadster – the 2012 Mercedes SL.
The SL is all-new. The current version of Mercedes' flagship coupe-cabriolet, the R230, was first launched in 2002 and has since undergone a few facelifts, each of which has slightly increased the vehicles's look of aggressiveness. In terms of style, this SL moves further in that direction, but changes under the skin help it shed significant bulk. Mercedes claims that the new model, codenamed R231, is up to 140kg lighter than its predecessor, that weighed in at 1970kg depending on the specifications. Weight-loss has been achieved through the extensive use of light-weight aluminium in the body-shell with steel only being used for rollover protection in the A-pillars.
The SL has Sculpted flanks and SLS-aping vents with chromed fins while the rear is dominated by oversized CLS-alike wrap-around tail lights extending into the hind quarters. Mercedes claims the new SL is the most aerodynamic car in its sector assisting with noise suppression even if the roof is down.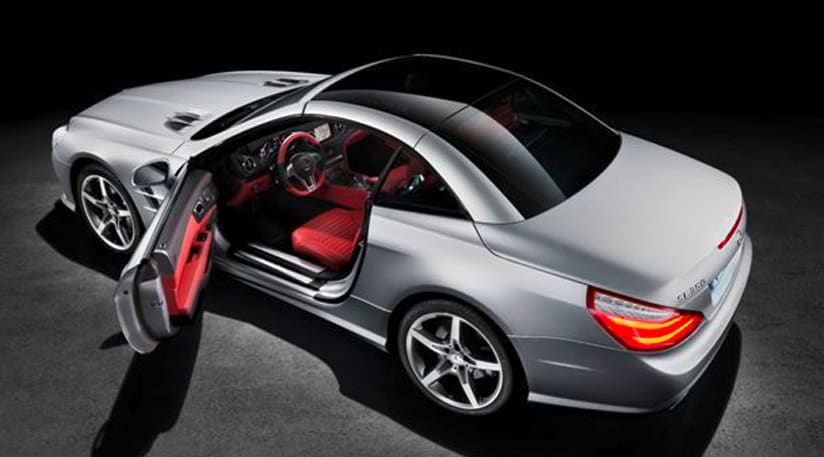 The interior boasts a comfortably spacious cabin (longer and wider than its predecessor by 50mm and 57mm respectively) and a dashboard with chromed air vents and switchgear. Technologically speaking the SL is fitted with Magic Vision Control, a wash-wipe system integrated into the wipers, which ensures the driver's vision can never be obscured by washer fluid and Frontbass, which produces 'concert-hall' sound quality and negates the requirement for speaker enclosures in the doors. Another great feature is Magic Sky Control, the panoramic glass roof that is already seen on the smaller SLK that can switch from transparent to darkened glass at the touch of a button.
Under the bonnet, the SL is fitted with a 4.7-litre twin-turbo V8 as opposed to the current 5.5 unit with power that  has been increased to 429bhp, whilst it drinks 22% less fuel, and hits 62 mph in a claimed 4.6 seconds.
The new SL is expected to go on sale in the UK in July 2012.