A very brave owner of a unique £1.6 million Bugatti Veyron made from porcelain parked it openly in a street in Paris, France. After being spotted outside the Plaza Athenee Hotel during its first sighting in Europe, unsurprisingly the supercar began to draw a crowd.
The super-wealthy owner of this astonishing Veyron L'Or Blanc or rather White Gold in English must have been very relieved when it arrived at the hotel unscathed as the streets of Paris are notoriously narrow and congested. The Bugatti, made last year, is the very first of its kind to have the porcelain body that was created in conjunction with a German ceramics company that usually makes tea pots. Interesting.
Tim Burton, 24, an enthusiast, drove down from London after hearing the rumours of the car making an appearance in Paris. He said that "I heard the one-off Veyron had been seen in Paris and I couldn't miss the opportunity to head to France and see it with my own eyes. Fortunately it was parked out on the road and what an amazing car it truly is."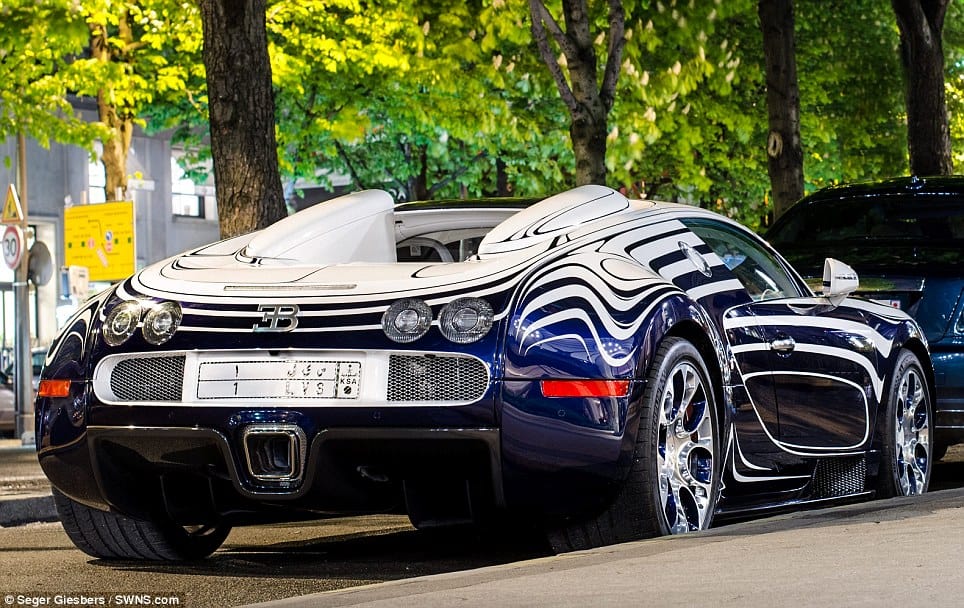 Here are some of the stats for the White Gold Bugatti Veyron:
Cost: £1.6 million
Number built: One
Engine: 8-litre W16
Power: 1,001bhp
Accleration: 0-62mph in 2.7 seconds, 0-124mph in 7.3 secs and 0-186mph in 16.7 secs
Top speed: 253mph (with roof down: 217mph)
Braking: 62mph – 0mph in 31.4 metres (DVLA figure = 73 metres)
Carbon dioxide emissions: 596g/km (Toyota Prius: 92g/km)
Average fuel economy: 10mpg
Fuel economy in town: 6.9mph
Bugatti's design experts came with the blue and white paintjob as a tribute to the 'Stelvio Pass', a legendary stretch of road in Italy.
Dr. Stefan Brungs, Director of Sales and Marketing at Bugatti Automobiles said at the time of the car's launch "At first, it seems to be an unusual idea to use porcelain in a car, especially in the world's fastest convertible. But this is what Bugatti stands for: the realization of exceptional ideas whilst striving for the utmost in quality and aesthetics. This allows us to continue Ettore Bugatti's heritage, who himself loved to experiment with new materials."