Local Motors plans to introduce the production of their Rally Fighter. The vehicle was made by a group of car enthusiasts who designed it from scratch. This open source project provides information on the chassis and body data of the vehicle free of cost as downloads – which will make modifying the vehicle really easy for those who wish to do so.
The Rally Fighter has a tubular steel space frame chassis that is powdered-coated, an off-road suspension (with a detachable front stabilizer bar and up to 20 inches of travel), and also has a high performance braking system.
The vehicle is powered by a 6.2-liter V8 engine with 430 hp (321 kW / 436 PS) and 424 lb-ft (574 Nm) of torque, which is connected to an automatic transmission that powers the rear wheels
Many of the components – nose, rear, underbelly and floor pans- are made of carbon fiber, which has contributed greatly to reducing the weight of the vehicle. The exterior is vinyl-wrapped weighing 12 lbs (5 kg) less than a painted one. Thanks to these modifications, the car weighs approximately 3,200 lbs (1,451 kg).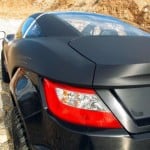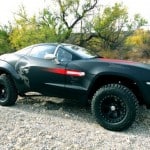 Although final pricing details have not been revealed yet, it is expected to be above $50,000. But those who wish to own one can place a $99 deposit and reserve their Rally Fighter.