It looks like if you want something fast and German and muscular, you will have to give Mercedes Benz a call. While their main rivals seem to have gone a bit soft in terms of design, Merc are cranking it up continuously with wider wheel arches, angrier front ends and even more aggressive rear ends.
Have a good look at this, the new Mercedes Benz C63 AMG Coupe Black Series, to give the car it's full title. It's not the first C Coupe Black, that arrived a few years ago with a warning letter to owners asking them to please drive in perfect conditions or else risk certain death. Oh, and sign here so you can't sue us when that happens.
This new model is even more insane, if that's possible. Employing the legend-in-its-own-day 6.2 litre naturally aspirated V8 (which they call the 63, but hey, what's 100cc between friends) the new C 63 Black delivers 380kW, or 620hp. That is quite remarkable, given that it's the lightest and smallest Mercedes to make use of that engine. The C63 that you can buy right now for around R800 000 in South Africa puts out 336kW, nothing to sneeze at but almost paltry in comparison.
Acceleration from standstill to 100km/h is at a claimed 4.2 seconds; fast, but I must admit I thought it would crack the 4 second barrier. The engine borrows heavily from the internals developed for the SLS AMG Gull-Wing, and given that this car is lighter and more track focused, we wonder which would be fastest around a track. Have Mercedes accidentally built a C-Class faster than it's flagship supercar?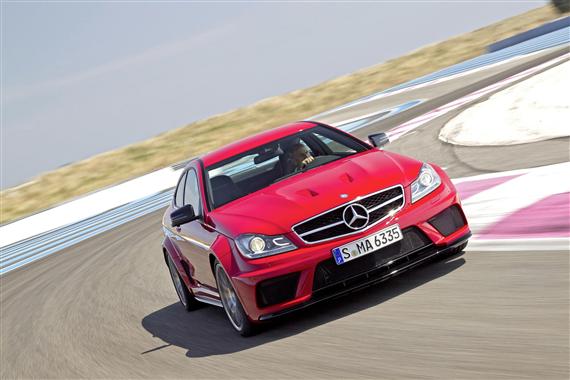 If track driving is your thing, Merc will set you up with the Black Series Track Package, which makes this car even more track orientated. But you'd have to be a seriously wealthy track day enthusiast to run one of these, given that the showroom model stands at over R800k. Deliveries start in 2012 and I wouldn't be surprised if you needed over R1.5m of your hard earned Rands to get your hands on one.
Ciro De Siena -OverdriveTV
Full specifications of the Mercedes Benz C63 AMG Coupe Black Series
Displacement: 6208 cc
Bore x stroke:  102.2 x 94.6 mm
Compression ratio: 11.3 : 1
Output:   380 kW (517 hp) at 6800 rpm at 6800/min
Max. torque:  620 Nm at 500 rpm
Engine weight (dry): 196 kg
Fuel consumption: 12.2 l/100 km*
CO2emissions:  286 g/km*
Acceleration:   0-100 km/h in 4.2s*