When you first look at the Ford Ranger, it is quite a daunting machine. The sheer size of the thing makes you wonder what it would be like to use in everyday life. But this Ford is not alone – other bakkies in SA are also starting to stretch in size. South Africa is currently being flooded with great new choices in the bakkie market, and the new Ford Ranger might just make the most compelling argument of the bunch. While the VW Amarok was the big new entry in the last few years, the new Ranger is the bakkie that will be trying to persuade the Hilux faithful.
We spent the week with the new high end 3.2 litre TDCi XLT model, and the new Ranger did not disappoint.
Features
The Ranger is a very good looking bakkie, and it displays a lot bigger than its competitors. But at 2,16 metres wide, it really is quite a broad fella. Measuring 5,27 metres long, I did have some trouble finding parking spots where the Ranger did not stick out a bit though. But the Ranger uses this size well, and the cabin is the first place where you notice some of the extra space.
Inside the Ranger is roomy, and it is not difficult to find a comfortable seating position. You sit higher than most other bakkies, but you quickly get used it. It should be pointed out that the steering wheel is not reach adjustable, which we found somewhat strange. Typically rear passengers in a double cab get a raw deal, but the Ranger is a lot more roomy in terms of rear legroom compared to its competitors.
We especially enjoyed all the little cubbies and spaces to store personal items – the Ranger also has a cooled space in between the front passenger seats, and the cup holders are nice and deep. We reckon the Ranger will be a great vehicle for long road trips. The dash is made from pretty hard textured plastic, which will probably wear well, and we did not notice a single rattle coming from it despite the vehicle having 18,000km on the clock.
The XLT model tested arrives with a whole range of extra features, and I was especially impressed by the audio system. Not only in sound quality, but also in terms of how easily it connected to phones, and then used A2DP Bluetooth to play your music stored without any fuss. Buttons on the steering wheel make it easy to quickly change tracks and answer calls as needed. There is also a voice control system, which worked well enough – simple commands like "Set radio to 567 AM" worked, but it did have some trouble with my South African accent in some instances.
You will also find USB connectivity for iPods and flash drives, and AUX in if you prefer analog input.
The XLT is the highest end "workhorse" model available with 4×4 and an auto box. There is also a Wildtrak model which has some extras for those who want a more "mean looking" bakkie, but is only available with a manual gearbox and 4×2. The Wildtrak model is also equipped with items like rain sensing wipers and climate control.
Driving
The new Ranger is based on a completely new platform, that will be shared in all its world markets, and its clear Ford really put a lot of effort into the design thereof.  The car feels incredibly solid driving around town, on highways and dirt roads. It is particularly noticeable how well the Ranger handles turns – it has almost no roll in the body, even when we took a fast drive up Helshoogte pass in Stellenbosch. The Ranger just simply grips all the way, which is probably helped by the nice fat tyres.
The Ranger clearly has its opposition in its visor as a worker's machine, and the Ranger shows this with a very strong 3350kg towing capacity (750kg unbraked), as well as a 80cm wade depth, which is still unmatched amongst its competitors. Ford also put a lot of emphasis on safety – the Ranger arrives with a whole host of confusing acronyms to improve handling like traction control, trailer sway control, adaptive load control and roll over "mitigation".  The inside is surrounded by airbags – in fact the driver even has a knee airbag. All of these safety features means that the Ford Ranger has a 5 star EuroNCAP safety rating, which is still unmatched by other bakkies.
Despite its massive wheelbase, the Ranger is remarkably easy to handle, and is surprisingly easy to use for day to day driving, even in the city. But we also took it for some mild off road driving on one Stellenbosch farm, and the Ranger really showed its mettle especially on a very muddy trail between the vineyards. Switching to 4 wheel drive or low range 4 wheel drive is as easy as turning a switch, and then the magic happens.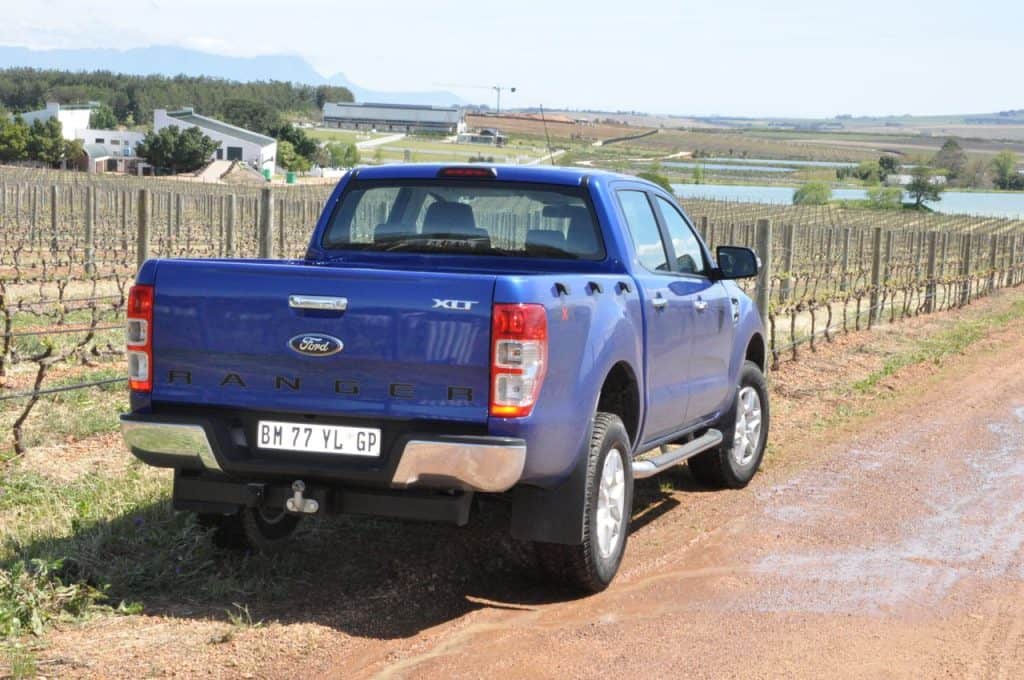 We also tested the hill descent control, and it worked especially well on some of the very muddy sections. Subtle buzzing noises are heard every now and then as it tries to find traction, but it does the job.
But on the open road that big 3.2 litre diesel can really gallop when needed. With 147kw on tap and 470Nm of torgue from only 1500rpm, overtaking was an absolute breeze. The 6 speed automatic gearbox made it a very comfortable car to drive, but its kickdowns when pushed were quick and without drama. The Ranger 3.2 TDCi will hit 100km/h in a claimed 9,5 seconds.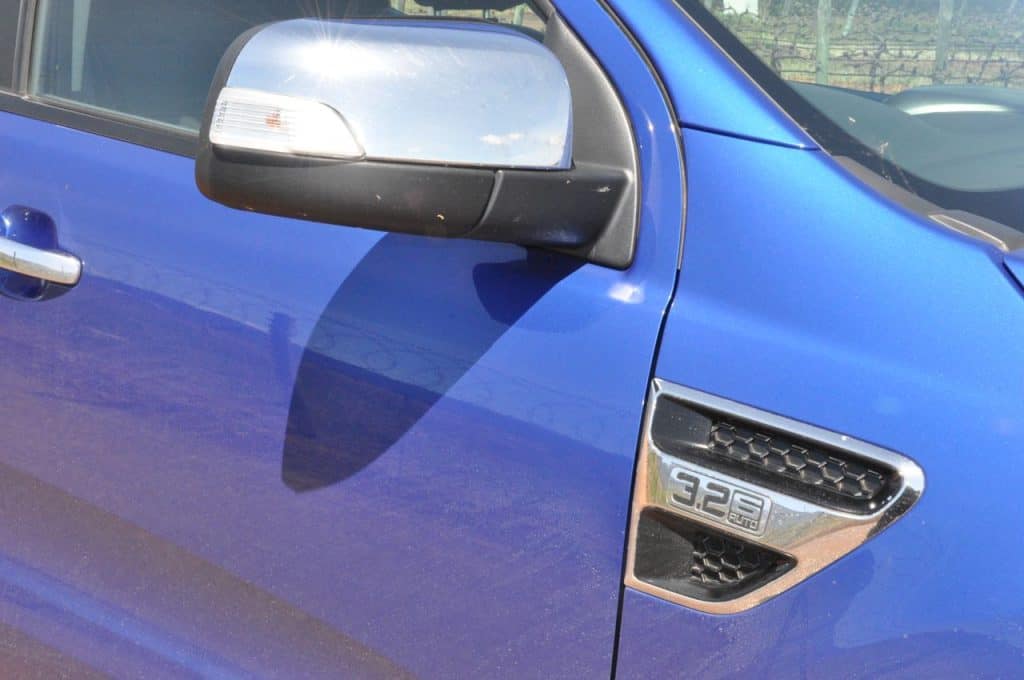 While the Ranger weighs 2,2 tons, it never felt heavy with that big engine. At first we were hesitant to drive it too hard, but we quickly noticed that the 5 cylinder 3.2 litre Diesel is pretty fuel efficient despite the vehicle's massive weight. After the week we averaged 10,4 litres per 100km, which included some highway driving, but a lot of city driving as well. One thing we also liked was how well "calm" the cruise control was – when clicking the button to resume a previous set speed, the acceleration was never harsh like with some other cars. You can see Ford put some effort into making the cruise control a good tool to save fuel.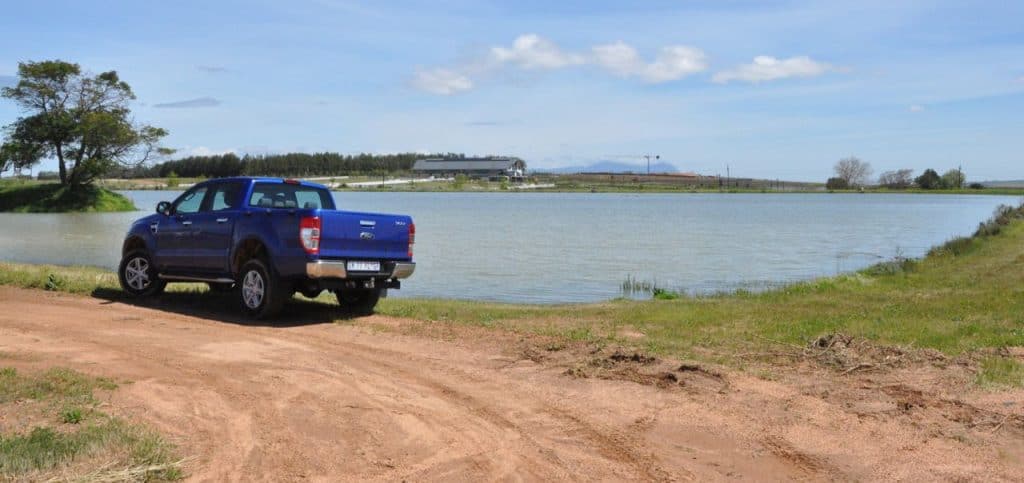 The Ford Ranger comes with a 5 year, 90 000km service plan and a 4 years, 120 000km warranty which only sweetens the deal compared to some other bakkies in South Africa.
Conclusions / Recommendations:
The Ranger 3.2 TDCi was an absolute gem to drive – the engine has more than enough power, the chassis seems incredibly tough, and it is easily the most comfortable bakkie in South Africa. While our test vehicle's metallic blue colour looks great in photos, we would opt for something more practical, because the blue paint really does show every little scratch from everyday use.
After a week we were sad to see the Ranger go – while imposing at first, it quickly became a treat, and that lovely engine made every trip fun. If we were Toyota we would be very worried – the Ranger is sure to sway away some loyals to the Ford camp, provided Ford can keep up with the demand.
Model tested: Ranger 3.2 TDCi XLT 6 Speed Auto 4×4
Engine Specs: 147Kw / 470Nm
Options fitted: None, Standard XLT Spec